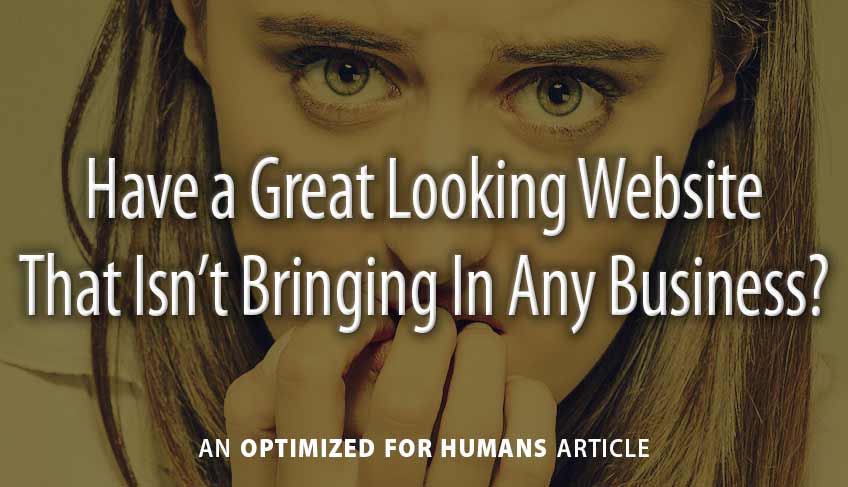 B Y   T O M   T O R T O R I C I
If you're reading this post because the answer is 'yes,' believe me, you're not alone.
You spent a chunk of money on a web designer who promised a clean, professional, and contemporary site design. And they very well may have delivered on that promise.
Of course you want a nice looking website to help your company make a good initial impression. No argument there.
The thing is, your ultimate goal wasn't to win a design award. It was to win new customers. And sometimes that aim gets lost along the way, because the designer's skill, and their focus, likely revolved around the look of the site – including things like fonts, colors and backgrounds.
All of which begs the question: have you ever actually spent money with a company simply because they had a nice website design?
Possible problem #1: There's not much of a market for your product
This issue has more to do with your business than your website. Do enough people or companies out there actually want or need what you sell? Are you priced too high? Is there just too much competition out there in your category?
One way to address these issues is to put yourself in the shoes of the typical buyer. Rather than just scoping out your competition, think through how that customer sees their options, including the pro's and con's of each. Ask why people would buy from you, and just as importantly, ask why they wouldn't. Then use those insights to refine your business model.
Another approach is to think about the exact types of buyers who would benefit by your company's particular strengths. For example, if your rug-cleaning service is great at getting out carpet stains, perhaps position yourself as "the" rug cleaners for families with pets. Focus exclusively on that target market, and you may have found a nice profitable niche.
Possible problem #2: Nobody knows about your website
Unfortunately, the fee you pay for a new website doesn't come with a guarantee that anyone will actually visit it. That can come as a shock to business owners who assumed "if we build it, they will come." When people online have one and a half billion websites to choose from worldwide, well, you can see the problem.
You probably know the term Search Engine Optimization (SEO), the art and science of getting your site listing to come up when someone does a search for your product or service. Everyone wants to be on the first page of Google, but when there are only 10 slots there for, say 100 companies that do rug cleaning, only those who work hardest at SEO will reach their goal.
One of the SEO basics is figuring out which terms people use to search for your services, then including those 'keywords' in your website text so Google can make a match. The trick here is to avoid broad terms like 'rug cleaning', which will just get you lost in the crowd, and focus on terms more specific to your buyers' needs, like "pet stains on carpet."
Other important components of a serious and ongoing SEO program include metadata, technical SEO, site speed, schema, and inbound links, plus connecting with Google properties like Google My Business, Google Analytics, and Google Search Console. There's a tsunami of guidance and info online about these topics.
Other ways to get the word out about your website include posting regularly on social media sites. You can do some light selling here, but it's more effective if the bulk of your posts offer helpful info to folks struggling with issues related to what you sell. Doing email outreach? Include a prominent link to your site. And don't forget online business directories, as well as using offline media such as print ads or mailers to drive people to your site. It can help a lot if you can make some kind of special offer.
Possible problem #3: Your site isn't optimized for humans
Websites are created at the direction of, and for the approval of, a company owner and other insiders. Problem there is, the mindset of people who are trying to sell something can be surprisingly far removed from the mindset of folks out there with an issue to solve. In other words, what those insiders want to say may not exactly be what their potential customers need to hear.
Is your website messaging going in the wrong direction? Here's a simple test. If the text includes the words 'we,' 'our' and 'us' more than 'you' and 'your,' then you should consider a fresh approach. One that shows you understand their challenges rather than just promoting your company.
Also, don't try to convince people why they need, well, carpet cleaning. They're already past that decision. Instead, feature the one thing that makes you better than those other providers, and emphasize the importance of that. This way, people will have a reason to remember you, and hire you, instead of your pile of competitors.
Finally, remember that people landing on your site don't typically read every word. They start by visually 'scanning' the page, reading headlines and looking at images. So be sure to put your best benefits and most important points in those headlines, to intrigue them into reading further.