Click On The Image To Read The Entire Post
THE OPTIMIZED FOR HUMANS BLOG
Free Ebook: Is Your Website Missing Opportunities?
How can you be sure? Check out 37 powerful little insights for engaging and converting buyers.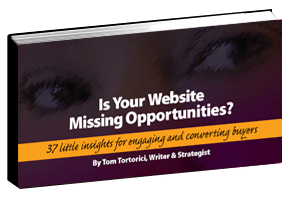 You'll also receive fresh posts from the Optimized for Humans blog, straight to your inbox. You never know what you might learn!
Bonus: Include your website URL if you'd like a free mini-review of your home page. I'll send you 3 custom ideas to better connect with your buyers.
__________________________
Intrigued by the ideas in these posts?


If the approaches and insights here seem to make sense, let's put them to work for you.
Companies can stand out from the pack with a targeted message strategy developed by an Atlanta website copywriter.
Designers and agencies can work with an Atlanta freelance copywriter to get the fresh content they need for client projects.