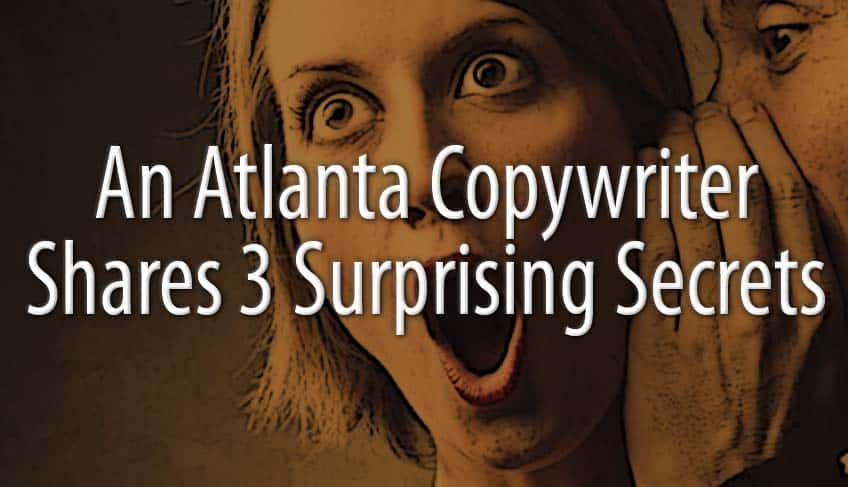 B Y T O M T O R T O R I C I
Initially, this triplet of insights surprised even me. Why? It revealed missed opportunities on so many of the business websites out there.
It was as if companies were missing their mark because they hadn't taken the time to aim first.
Anyway, I'm an Atlanta copywriter, happy to add a professional touch to the words that sellers use to talk to buyers.
That's all you need if, say, you're the exclusive source for something that people can't live without, and oh – you're giving it away for free.
However if you're doing business in the real world, where distracted buyers have endless choices, nanosecond attention spans, and a lowest-bid mentality, companies need more than a nice, clear writing style for an online strategy.
So what will it take to grab all those fickle folks by the eyeballs and get them to focus on you and you alone?
That is one excellent question, as well as the topic of today's 3 Surprising Secrets. In classes and conference talks I've given on this, I watched marketers, writers and designers raise their eyebrows in unison as they suddenly rose above their own personal point-of-view.
That transition, I realized, was key.
Secret 1: Just because it's your website, it shouldn't just be all about you.
Too many companies take a self-centered approach to how wonderful they are. To insiders, it sounds fine.
But let's face it – if you meet someone who can't stop boasting about their own attributes and accomplishments, are you drawn in, or repelled away?
Sure, companies need to convey their strengths. But it's more effective when they're converted to benefits for the buyer. And instead of simply listing what you 'offer', think in terms of 'solutions' to common issues.
In other words, rather than sounding like someone trying to sell something, approach this through the eyes of someone with a problem to solve or a goal to reach. What's motivating them? Where are they stuck? Start there.
A good Atlanta copywriter will conduct a 'Discovery' of product, service and company advantages. They'll then 'translate' it all from company speak to customer speak.
One way to keep your site reader-focused is to use the words you and your more than the words we, us and our.
And yes, you want to tell your company's story. That's what your 'About' page is for. The rest of your site should be about your customer's story, and how you'll help them achieve a happy ending.
In his hugely influential book, Building a Story Brand, Donald Miller points out that most companies want to be the hero of the story, whereas buyers are really looking for a knowledgeable 'helper' that makes them the hero of their own story.
When the buyer finds a source that truly understands their challenges and their feelings, that creates a connection.
Companies that only focus inward on their own 'commitment', 'mission' and 'goals' may be surprised to know that's a missed opportunity to connect.
Secret 2: Saying what everyone else says makes you sound like everyone else.
Have you noticed that most of your competitors' websites pretty much repeat the same things?
That's not helpful for online buyers who are trying to make a choice.
The funny thing is, every company I've ever worked with has had some unique advantage in their approach to what they do.
That 'gem' wasn't always obvious on the surface. It was only unearthed by digging deeper, addressing questions that had never been asked before, then 'polishing' it with some strategic word-crafting.
But once revealed on their website and elsewhere, that core message gave potential customers a solid, meaningful reason to remember them.
And in a cluttered, competitive marketplace, being known for something is golden.
Your "brand" isn't just your logo and company colors. The true meaning of a brand is a promise you make to customers, expressed in a unique core message.
By not bothering to do the digging with a strategically-minded Atlanta copywriter, companies miss the opportunity to stand out from the crowd, day after day … and year after year.
Secret 3: Readers who land on your website aren't likely to actually read it.
What they will do is visually scan it. If something meaningful quickly catches their eye, then they'll read further.
If not, they just reach for the Back button to see what else is out there. If you've paid attention to your own online behavior, the scanner effect should be no surprise.
That's why key messages need to be skillfully presented on your web page. An enlightened approach to content presentation intentionally engages scanners and helps turn them into readers.
In any case, no one leaves without being exposed to your company's core advantages.
Especially on a web Home page, long chunks of text tend to scare readers away. Information that's broken into bite-size pieces is much more likely to be read and absorbed.
The best Atlanta copywriters know how to intentionally prepare content for the scanning eye.
They provide not just the words, but also indications for the emphasis, sequence and segmentation of those messages for maximum reader impact.
Using these guidelines as a blueprint, web designers can then build reader-friendly, conversion-optimized pages, rather than just nice-looking designs.
By assuming that readers read every word on your site, you may miss the opportunity to engage with all those scanners out there.
Do these surprising secrets make sense to you, but you're still not sure where to start?
The right Atlanta copywriter can help pull it all together, but your professional knowledge, approach and beliefs play an essential role.
Working on your own site or one for a client? Updating an existing site or building a new one? Need copywriting, or just a consult for messaging and planning? No matter. If you're here reading this, you're on the right track.
Remember, though, that there's a difference between a writer who can put together nice words, and one who can use those words to take your marketing strategy to the next level.

Companies can learn more about the possibilities

here

.
Agencies and designers can explore partnerships

here

.
Share It:

About the Author:  Tom Tortorici is an Atlanta copywriter and web content writer who helps companies make a genuine connection with their audience. His classes and conference presentations have focused on how writing, strategy and design can work together to grab attention and interest even among readers with short attention spans. In addition to working directly with businesses, Tom regularly partners with web designers and marketing agencies.
Tom Tortorici Inc. | Tom@TomTortorici.com | 770-934-7861 | 3101 Rockaway Rd | Atlanta GA 30341