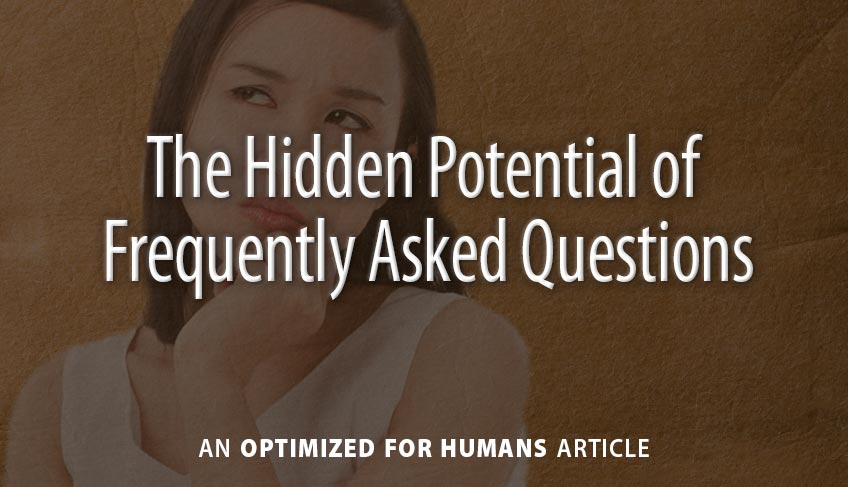 B Y   T O M   T O R T O R I C I
What queries do you hear most often from new and prospective buyers? Perhaps you already have a FAQ page on your website. Let's take a closer look at how you can further leverage the Q&A approach to turn questioners into paying customers.
Keep a List
If you're not already, keep a document handy for questions you get from folks when you do intro calls or estimates. In time, you'll notice certain ones that are asked over and over again. Pay attention to those, because they reflect the real-world concerns and aspirations of the exact people your business depends on.
Dump the Page
FAQ pages tend to be among the least-visited pages on a website. It may be more effective to break up that list, and sprinkle the FAQs around the most relevant product, service, or other pages, where they're more likely to be seen. This approach also makes the company sound like they're trying to help, not just sell.
Recognize Two Types
There are two varieties of FAQs, and they should be kept separate. First, there are 'company FAQs' regarding doing business with that particular firm; a consultant's web page may ask and answer, 'do you charge for an initial consultation?' Second, there are 'topic FAQs' which focus on general knowledge; a law firm's site might cover 'can I keep my home if I file for bankruptcy?'
Blog About It
The law firm would be smart to write an entire blog post about that topic, going deeper into the details. If they used the exact wording of that question for the page title, the SEO title tag, and the keyword, their post has good chance of coming up in a relevant Google search. At the end of the piece, the reader would be invited to learn more by clicking or calling.
Promote an Advantage
If that consultant doesn't charge for their helpful initial consults, and their competitors do, perhaps that benefit could presented in their main home-page headline. After all, since they get that question often, they know it's an area of concern for many. Actually, even if other consultants do offer free intro talks, but don't mention it on their websites, that 'benefit' is still fair game.
Ask the Right People
When I do website writing, I always start with a Discovery session, to learn about the company's offerings and its customers' needs. Often I'm working with a business owner or a marketing manager who doesn't directly converse with new and prospective customers. So I ask them to include on the call their sharpest salesperson or customer service rep, who does know what buyers are asking these days.
In Conclusion
Why do so many websites fail to engage, persuade and convert buyers? Because the words on the site may reflect what's important only to company insiders. For a strategic website that truly resonates with the decision makers out there, their own FAQs are the perfect place to mine for gold.
If this all makes sense to you, but you're not sure how to turn it to your company's advantage, let's talk about it – yes – in a free initial consult. Get in touch.
Share It:

About the Author:  Tom Tortorici is an Atlanta copywriter and web content writer who helps companies make a genuine connection with their audience. His classes and conference presentations have focused on how writing, strategy and design can work together to grab attention and interest even among readers with short attention spans. In addition to working directly with businesses, Tom regularly partners with web designers and marketing agencies.
Tom Tortorici Inc. | Tom@TomTortorici.com | 770-934-7861 | 3101 Rockaway Rd | Atlanta GA 30341